*We build radiators for all years of Mopar vehicles. Please contact us to learn more.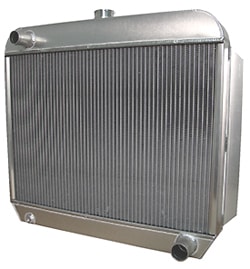 Plymouth cut their teeth in Muscle car building in the 60s and 70s with cars like the Cuda, Duster and RoadRunner all becoming street racing legends.
The Plymouth Barracuda was the first pony car, debuting two weeks before the Ford Mustang. 1969 was the year that Plymouth finally got serious about performance and introduced the Cuda. A year later they offered the Cuda with five different V8s and the almighty 426 Hemi.
Dodge got into the Muscle car picture in 1966 when they launched the Charger. The 66 Charger also saw the debut of the most famous engine in musclecar history, the 426 Hemi.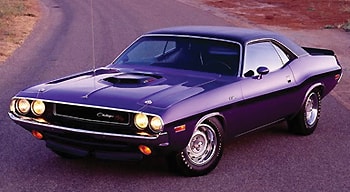 The Dodge Dart was reborn in 1963 as a true compact car and included the Demon, Swinger and the mighty Dart GTS.
The Dodge Challenger (1970-74) debuted with an engine lineup that ranged from a docile slant six to the powerful 440 Six Barrel and the 426 Hemi.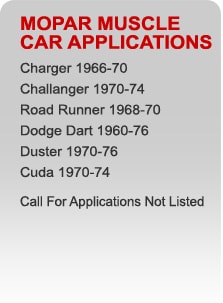 | Part # | Accessories |
| --- | --- |
| 21010 | Custom Aluminum Shroud |
| 27001 | Spal 16" High Performance Electric Fan (1) |
| 2710009 | Billet Aluminum Fan Motor Cover (1) |
| 27023 | Single Fan Wiring Harness |
| 2912004 | A/C Condenser 12" x 20" |
| 2112015 | Full Frame Condenser |
| 2613011 | 16LB. Radiator Cap |
| 2113213 | 13" Polished Recovery Tank |
| 2112009 | Internal Transmission Cooler |
| 2930001 | 12" External Transmission Cooler |
| 2930002 | 20" External Transmission Cooler |
| 21312 | Complete Polish |