Years of Experience and a Strong Passion for the Industry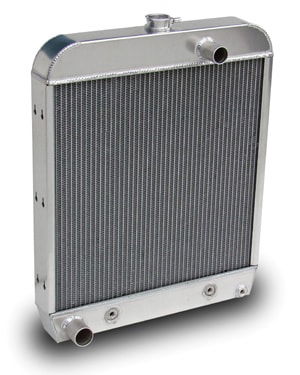 PRC Quality and Value
Performance Rod and Custom guarantees you the highest quality products and innovative solutions for all your cooling needs. With quality and value as our primary goals, we don't take short cuts, or compromise any aspect of our manufacturing process. We use only the finest cores and materials in the industry to produce our products, which then undergo rigorous testing to ensure they are leak free, and perform to PRC's high level of standards. Our radiators, core supports, oil coolers, recovery tanks and reservoirs are not mass produced. Rather, they're built one at a time by hand here at our Boonville, Indiana location. We strive to deliver the best quality product at the lowest possible price.
Excellent customer service is a core value of PRC. Our knowledgeable staff truly cares about you, the customer. We are attentive, and always available to answer any questions you may have.
PRC Performance, Appearance, and Fit
PRC provides unmatched cooling system performance for high horsepower applications in extreme climate conditions. This is achieved through our strong understanding of cooling system design, and by implementing quality manufacturing techniques exclusive to PRC. For the best in performance, durability, and reliability, customers can always rely on PRC.
Our cooling system designs not only offer superior performance, but are also show quality in appearance. PRC's hand TIG welding, which is reputed to be the best in the industry, provides smooth and clean seams. To ensure excellent fit, all parts are designed to the customer's specific application, and then laser cut and punched for accuracy.
PRC Innovation
At PRC we are driven by innovation and originality. Take for example our unique Cooling Module, which combines a radiator, shroud, fan, and wiring harness into one assembly that can be simply installed in the vehicle. PRC also developed the first aluminum aftermarket core support for Tri-5 Chevy's. At PRC our motto is; "If it has a cooling system, we can build a radiator for it".
New Product Development
PRC New Product Development is driven by finding solutions to customer needs. The design program at Performance Rod & Custom continues to find ways to improve our existing product line. Years of hands-on experience has made us knowledgeable and aware of industry products. In addition, we are always looking to expand our product line to other aftermarket industries. Ongoing testing will always be extremely important so we can continue to be an industry leader and continue to provide top quality products.
Built by Enthusiasts for Enthusiasts
The PRC staff doesn't just provide high performance cooling systems to racing and performance enthusiasts, we are enthusiasts ourselves. We understand the vehicles that use our products and the conditions under which they must perform. By attending races and other events our sales staff is constantly aware of customer needs.
Markets We Serve
PRC provides custom cooling systems for a wide range of applications, and we're always looking to expand our product line into new aftermarket industries.
Muscle Car
Street Rod
Customs of all sorts
Circle Track
Drag Racing
Off Road
UTV & ATV
Mud Trucks
Rock Climbers
Trophy Trucks
Commercial
Tractor Pulling
Electric Car
Military
OEM
Experimental Aircraft