*We build radiators for all years of Ford vehicles. Please contact us to learn more.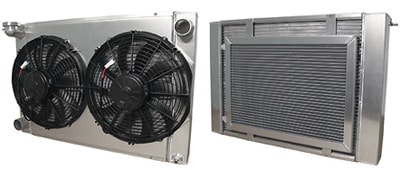 Ford muscle cars counted among their ranks some of the better all-around performance machines of the muscler era. "Total performance" was the companys slogan for 1963, and that's what a 425-bhp 1963 Ford Galaxie 427 delivered.
The 1966 Ford Fairlane 427 could hold its own with any muscle car but was simply outnumbered. It's "shaker" scoop throbbing with power, the 1969 Ford Mustang Mach 1 428 Cobra Jet was the muscle car Mustang fans waited for.
The 1971 Ford Mustang Boss 351 was the last Boss and, with a 330bhp solid-lifter 351-cid ram-air V-8, among the best.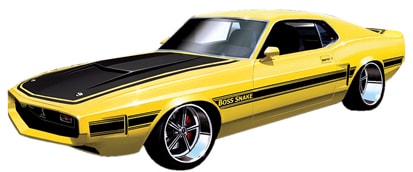 Ford's exit from the golden age of muscle was sudden and complete. By 1972 the Mustangs 429 option was gone but was still offered in the Ford Torino.
Even today the Ford Mustang remains one of the top selling modern day muscle cars.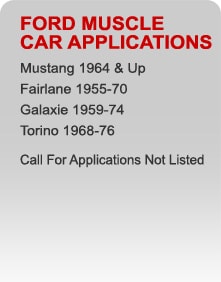 | Part # | Accessories |
| --- | --- |
| 21010 | Custom Aluminum Shroud |
| 27001 | Spal 16" High Performance Electric Fan (1) |
| 2710009 | Billet Aluminum Fan Motor Cover (1) |
| 27023 | Single Fan Wiring Harness |
| 2912004 | A/C Condenser 12" x 20" |
| 2112015 | Full Frame Condenser |
| 2613011 | 16LB. Radiator Cap |
| 2113213 | 13" Polished Recovery Tank |
| 2112009 | Internal Transmission Cooler |
| 2930001 | 12" External Transmission Cooler |
| 2930002 | 20" External Transmission Cooler |
| 21312 | Complete Polish |