*We build radiators for all years of Chevy vehicles. Please contact us to learn more.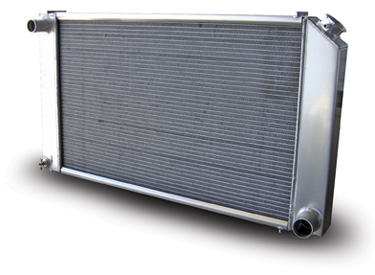 The Impala. The Chevelle. The Nova. The Camaro. Chevrolet's impressive fleet of muscle cars define the 1960s and 70s. Even today, Chevy's muscle cars still attract attention of drivers and collectors. Muscle cars offered buyers lots of power and performance all at a reasonable price.
In 1962, Chevy introduced the Nova, originally referred to as the Chevy II. The next Chevy muscle car to hit the streets was the Chevelle SS in 1964. This car made Chevy a mid-size catagory leader. Three years after the Chevelle came the Camaro. Designed to compete with the Mustang, the Camaro survived for 35 years. The Camaro was reintroduced in 2009.
Two rows of 1" tube core design provide maximum cooling even when idling and cruising.
Performance Rod & Custom specializes in providing cooling systems to help your car run cool in extreme conditions. In addition to superior craftsmanship, PRC uses the highest quality materials to ensure you get the product you deserve.
Spal Electric Fans greatly improve air flow during idle and low speed conditions.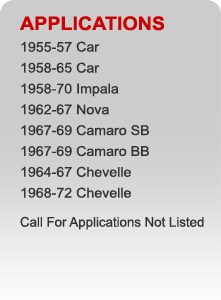 | Part # | Accessories |
| --- | --- |
| 21010 | Custom Aluminum Shroud |
| 27001 | Spal 16" High Performance Electric Fan (1) |
| 2710009 | Billet Aluminum Fan Motor Cover (1) |
| 27023 | Single Fan Wiring Harness |
| 2912004 | A/C Condenser 12" x 20" |
| 2112015 | Full Frame Condenser |
| 2613011 | 16LB. Radiator Cap |
| 2113213 | 13" Polished Recovery Tank |
| 2112009 | Internal Transmission Cooler |
| 2930001 | 12" External Transmission Cooler |
| 2930002 | 20" External Transmission Cooler |
| 21312 | Complete Polish |